Tribute to our Founder and Chairman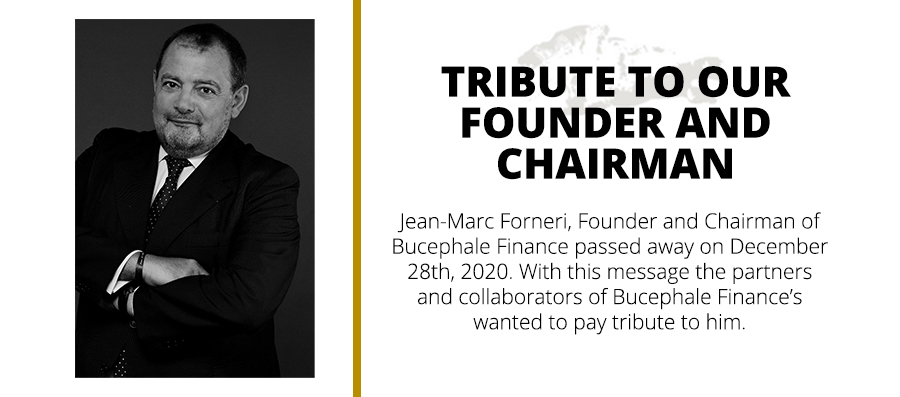 We extend our sincere condolences to Jean-Marc's family.
After graduating from the Paris IEP (Institute for Political Studies) and holding a Master degree in Business Law and completing the French bar (CAPA) exam, Jean-Marc Forneri decided to take the ENA (Ecole Nationale d'Administration) entrance examination which he entered in the Louise Michel's promotion in 1982-84. He began his career at the General Finance Inspectorate in 1984. Then in 1987, he became an Advisor to the Minister of Finance and rapporteur for the Commission on Estate Taxes (French Ministry of Finance). At the age of 28, Jean-Marc left the public service to take over the management of Skis Rossignol. Under his 6 years of leadership, he contributed to significantly develop the business. In 1994, he joined Worms & Cie as Managing Partner, where he ran the group's investment banking activities. In 1996, he was appointed Chairman of Credit Suisse First Boston France and Vice-Chairman of Credit Suisse First Boston Europe, where he advised major mergers and acquisitions projects.
In 2004, his resolutely entrepreneurial nature led him to found his own investment banking « boutique »: Bucephale Finance, which has since become a reference on the market. Over the years, Jean-Marc has built strong relationships with major industrial corporations, family-owned groups, entrepreneurs, international investors, and private equity firms. Jean-Marc has always favored an "intuitu personae" approach by promoting the values of creativity, reactivity, strict confidentiality and independence. He has successfully instilled all these values to his partners and associates.
As a multi-faceted man with many passions, Jean-Marc was also Chairman of the Supervisory Board of the GPMM (Grand Port Maritime de Marseille) since 2014 and has served as board member in prestigious companies such as Safran and ICE (InterContinentalExchange) as well as in organizations dedicated to French artistic outreach, including the Aix en Provence Lyric Art Festival and the Société des Amis de Versailles.
Jean-Marc is Knight of the Legion of Honor, the National Order of Merit, and the National Order of Art and Letters.
« As key figure of the financial community, Jean-Marc has contributed to the reputation of our Company. Bright, talented, a man of great culture, loyal and so endearing, he leaves us as a legacy a modern and creative vision of the profession of trusted investment banker. He taught us to never give up, to always be combative, imaginative, and bold. We will continue to uphold the values and professionalism he instilled in us in the daily practice of our profession.

He was our Chairman and an exceptional friend, and we will never forget him. » said Jérôme Dian, Timothée Fontaine and David Orban, Jean-Marc's partners.